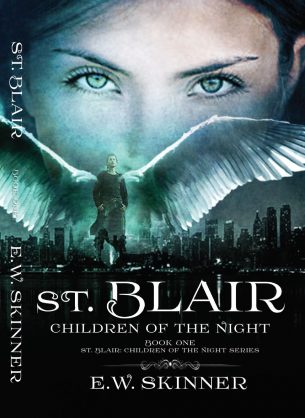 St. Blair: Children of the Night
Book One | St. Blair: Children of the Night Series
By E.W. Skinner
Sybille Malone lives in an overpopulated Manhattan, Region One, of Global Good 2202. Their society is the fulfillment of utopian ideals developed by the surviving masses of 2100. Seventeen-year-old Sybille is a resident of Dayshift and longs for a Nightshift boy known only as Mark.
Distraught by Global Good's restrictive culture, Sybille is desperate until she finds a relic of a past civilization. The discovery of Blair's diary sets off a chain of supernatural events that not only effects Sybille's close relationships, but has Global Good scrambling to find the culprit.
Includes a Reading Group Discussion Guide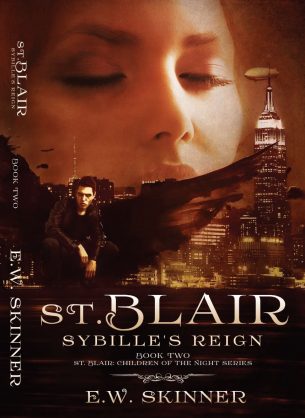 St. Blair: Sybille's Reign
Book Two | St. Blair: Children of the Night Series
By E.W. Skinner
Twenty-four hours earlier the world was a pristine, productive, demon-free society and Sybille Malone an unknown Region One Fabric Counsel designer.
Global Good's curator and guardian of banished relics warehoused in the Arctic Region, Eston Cote, needs to act fast. As Global Good's North Quad leader, he must prepare his colleagues in the other three Quadrants of the world for something they have never known… warfare.
Celestial warfare. A fight for souls.
Eston has discovered Sybille's connection to a chain of supernatural events that not only caused planetary earthquakes, but unleashed the Holy Warrior St. Michael the Archangel and his enemies. Michael's sole mission is to defend Sybille's calling, slaying the hounds of hell who threaten to possess the citizens of her world.
Divinely foreseen and journaled by 21st century teenager St. Blair, Sybille's only hope of reining in the evil she unleashed on September 14, 2202, is to follow the directives of Blair and the saints before the demonic possessions outnumber the innocents.
Subscribe to my email list and enjoy the Perks!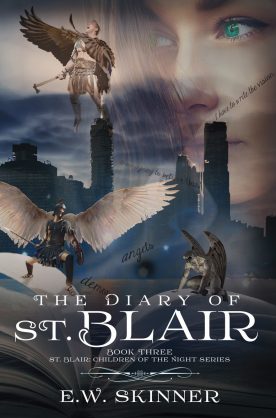 The Diary of St. Blair
Book Three | St. Blair: Children of the Night Series
By E.W. Skinner
The 3rd in a series, (Book 1 – St. Blair: Children of the Night and Book 2 – St. Blair: Sybille's Reign) this installment opens with an introduction by Sybille Malone, the beneficiary of Blair Carlisle's diary in the year 2203.
Blair is a devoted Catholic girl who altar serves, attends public school and soon realizes she is a liaison for the supernatural. In her openness to the mysteries of faith, she soon finds herself a magnet for angels, saints and otherworld entities.
It is through the twists of Blair questioning her earthly purpose, extolling her love of family and journaling about encounters with St. Michael the Archangel, that we begin to understand her God-Flashes into a future she'll never see.
We discover, as Blair's spiritual director Sister Jo does, why God might call her the most unlikely person to save the world.