Until We Sleep Our Last Sleep
Compiled and Foreword by Emily W. Skinner
Though you wouldn't know it from her diary, Emily Millikan Blair was a descendant of North Carolina's Millikan and Blair families who saved patriots during the Revolutionary War, and supported the abolitionist movement of the Civil War. While she mentions many relations, she does not boast of their contribution to history.
Instead, she writes of her devotion to her husband, John Addison Blair, her Quaker church Springfield Friends, New Garden Boarding School (which later becomes Guilford College) and, most prominently, God.
As a whole, the diary might feel like an anthropological study of Quaker womanhood, but Emily doesn't cook or bake, wash, clean or raise her children as most women in her community. She was a farmer's wife and, though disabled, she gave birth to five children. She writes honestly about her physical challenges and depression in plain Quaker speak. She shares daily gratitude to God for each day she is permitted to live and records deaths as an almost devotional practice.
The redundancies of her plain speak from 1889 evolve with modern times as we enter the 1920s. She speaks of her daughters most often as Mrs. Dougan Moffitt, Mrs. Arthur Lee Stilwell or later Mrs. J.W. Peace as opposed to their given names. Her sons are mentioned frequently by their full names: Fred C. Blair and Jesse C. Blair. As Emily ages, her children and grandchildren are mentioned in a less formal manner. However, it is evident that she is writing for future readers, providing an historical record of who she is behind the veil of family in Randolph County, N.C.
She doesn't mention that she and John A. Blair courted during the Civil War, but the facts are evident when she mentions being a student at New Garden Boarding School in 1864, and their marriage recorded in 1864. She also doesn't provide details as to whether she was born disabled or became such, leaving unsaid things we might presume are either too mundane, or perhaps unspeakable.
The diary is exact and unedited. These are her words, as she wrote them over a century ago, yet her message of daily self encouragement and appreciation are timeless.
Includes an index of 650+ North Carolina family and friends.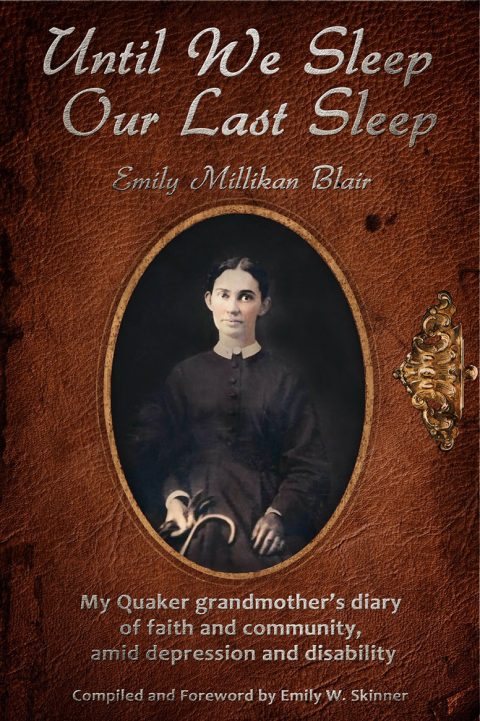 Until We Sleep Our Last Sleep
Compiled and Foreword by Emily W. Skinner
"The diary was a pleasure to read. Emily's testimony and faith were always vibrant in the midst of trials of all sorts, and any guilt in reading someone else's diary disappears in gratitude for such a window into a remarkable soul."
—North Carolina Genealogical Society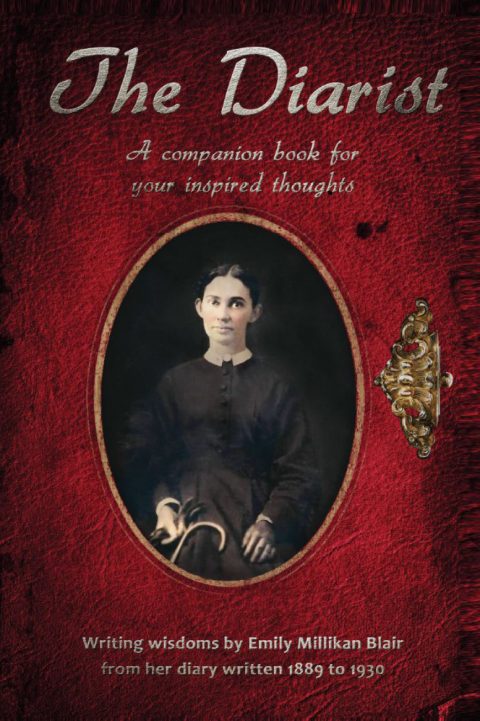 The Diarist
A Companion Book For Your Inspired Thoughts
"In thus keeping dates I am made to wonder at the flight of time, it hardly seems possible that so many months have elapsed since I have been writing down a few words each day." With these words, Emily Millikan Blair summarized her life as a prolific diarist. Her journal, Until We Sleep Our Last Sleep, won the North Carolina Genealogical Society Award for Excellence in Publishing: A Publication Relevant to North Carolina Genealogy. This timeless companion book features unlined pages for diarists to record their thoughts, as well as excerpts from Ms. Blair's own hand to guide their journaling.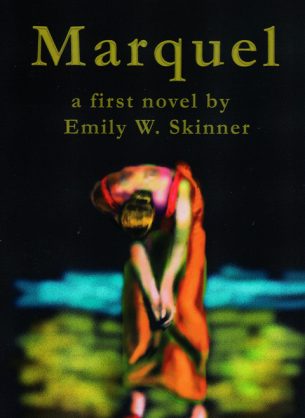 Marquel
A Romantic Thriller
(Includes Adult Content)
By Emily W. Skinner
Marquel is an actress who rises to prime-time soap stardom only to suffer a mental breakdown. Her agent Ken Avery hires Zach Manning, a Beverly Hills therapist, to help his biggest client get well.
Zach falls in love with his beautiful new patient, compromising his professional ethics. But it is Mark Collins, a tabloid journalist, who derails her progress by trying to uncover her shocking past before she can recall it — making it a race against time to see who gets there first.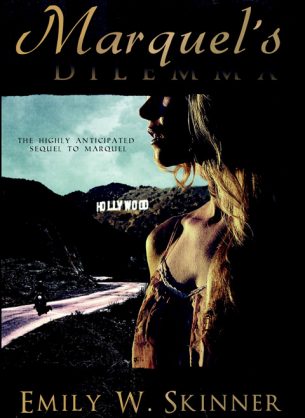 Marquel's Dilemma
By Emily Skinner
SPOILER ALERT – To avoid spoilers, it is advised to read the first novel, Marquel, before reading Marquel's Dilemma.
The dramatic conclusion of Emily Skinner's first novel Marquel brought requests from readers to continue the story.
Marquel's Dilemma begins three years after the actress Marquel's tragic past has been exposed by tabloid journalist, Mark Collins. The media exploitation of her life brought a new responsibility. She would become a voice of hope for others, not as the actress Marquel, but under her married name.
Zach Manning, Marquel's psychiatrist, lover — and now husband — made a huge mistake in protecting her. Unbeknownst to his wife, Zach asked for a favor, not weighing the consequences. Now Collins is back for revenge. The first time it was his job… now it's personal!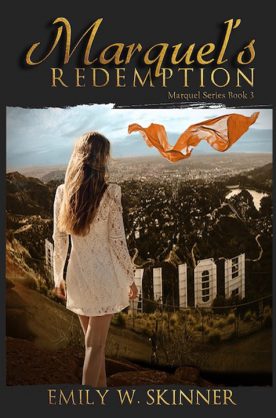 Marquel's Redemption
By Emily Skinner
Recovering from a kidnapping that ended lives on Mt. Lee, Los Angeles, the actress best known by the stage name Marquel no longer has to worry about her abductor returning. Her live-in bodyguard, retired military officer Rick Jones, and his agency are keeping watch over tabloid-journalist-turned-kidnapper Mark Collins' friends in the Vasquez cartel.
While her living arrangement with Rick is strictly professional, their chemistry becomes unavoidable, making their proximity ever more challenging as she works through the losses that brought them together.
As past demons collide with unforeseen events, the present becomes a dangerous landscape where no one is safe!
Can Marquel endure the winding roads of fame and loss that will ultimately lead to her redemption?
Hollywood Pitch from Carson Kressley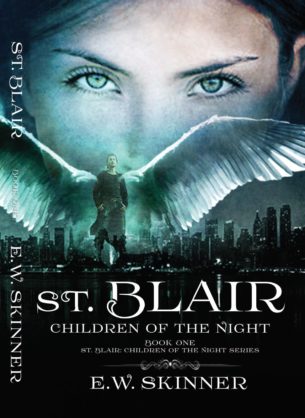 St. Blair: Children of the Night
Book One | St. Blair: Children of the Night Series
By E.W. Skinner
Sybille Malone lives in an overpopulated Manhattan, Region One, of Global Good 2202. Their society is the fulfillment of utopian ideals developed by the surviving masses of 2100. Seventeen-year-old Sybille is a resident of Dayshift and longs for a Nightshift boy known only as Mark.
Distraught by Global Good's restrictive culture, Sybille is desperate until she finds a relic of a past civilization. The discovery of Blair's diary sets off a chain of supernatural events that not only effects Sybille's close relationships, but has Global Good scrambling to find the culprit.
Includes a Reading Group Discussion Guide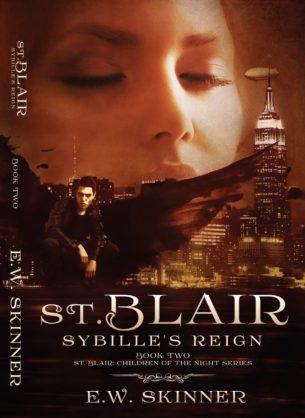 St. Blair: Sybille's Reign
Book Two | St. Blair: Children of the Night Series
By E.W. Skinner
Twenty-four hours earlier the world was a pristine, productive, demon-free society and Sybille Malone an unknown Region One Fabric Counsel designer.
Global Good's curator and guardian of banished relics warehoused in the Arctic Region, Eston Cote, needs to act fast. As Global Good's North Quad leader, he must prepare his colleagues in the other three Quadrants of the world for something they have never known… warfare.
Celestial warfare. A fight for souls.
Eston has discovered Sybille's connection to a chain of supernatural events that not only caused planetary earthquakes, but unleashed the Holy Warrior St. Michael the Archangel and his enemies. Michael's sole mission is to defend Sybille's calling, slaying the hounds of hell who threaten to possess the citizens of her world.
Divinely foreseen and journaled by 21st century teenager St. Blair, Sybille's only hope of reining in the evil she unleashed on September 14, 2202, is to follow the directives of Blair and the saints before the demonic possessions outnumber the innocents.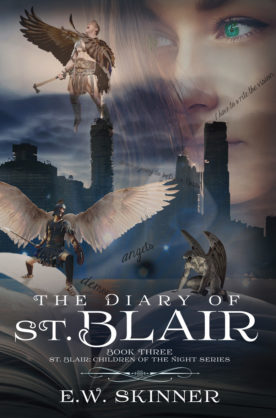 The Diary of St. Blair
Book Three | St. Blair: Children of the Night Series
By E.W. Skinner
The 3rd in a series, (Book 1 – St. Blair: Children of the Night and Book 2 – St. Blair: Sybille's Reign) this installment opens with an introduction by Sybille Malone, the beneficiary of Blair Carlisle's diary in the year 2203.
Blair is a devoted Catholic girl who altar serves, attends public school and soon realizes she is a liaison for the supernatural. In her openness to the mysteries of faith, she soon finds herself a magnet for angels, saints and otherworld entities.
It is through the twists of Blair questioning her earthly purpose, extolling her love of family and journaling about encounters with St. Michael the Archangel, that we begin to understand her God-Flashes into a future she'll never see.
We discover, as Blair's spiritual director Sister Jo does, why God might call her the most unlikely person to save the world.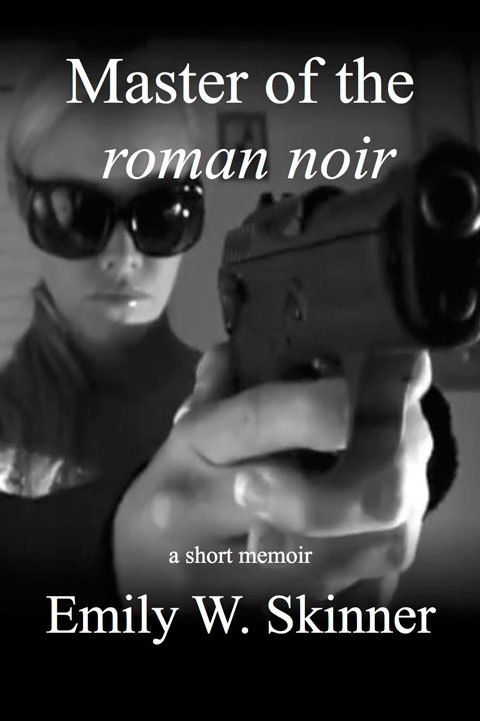 Master of the Roman Noir
By E.W. Skinner
There are popular Master Classes online these days, but I had a chance to learn plotting one-on-one from Florida pulp legend, Harry Whittington. Harry wrote over 200 novels in various genres including detective, westerns and romance. Roughly seven of his novels were made into television shows or films. I was fortunate to know him. This is my tribute to a master wordsmith.
Subscribe to my email list and enjoy the Perks!