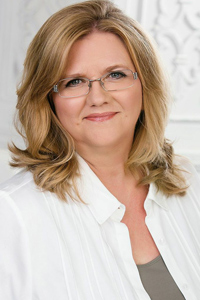 Emily Skinner was a protege of the late master of the pulps or paperback originals, Harry Whittington. Skinner interviewed Whittington during her days as a feature writer for the Clearwater Sun daily newspaper and its weekly division. They became friends and he taught her how to plot and gave her approval of the original outline and sample chapter for her adult novel, "Marquel" shortly before he died.
After Whittington passed away, Skinner challenged herself to write as her mentor did and wrote a chapter a day and finished the novel "Marquel" in 52 days. The novel "Marquel" is named for Skinner's daughter Marquel, but it is not about her daughter.
Fast forward, a second daughter Blair is born and Skinner and husband Tom focus on raising their family. Skinner came up with the idea of naming books after her children when she was 15. She's not sure why she came up with the idea.
"St. Blair: Children of the Night" is a young adult paranormal appropriately named after Skinner's youngest daughter, Blair. A devoted Catholic, Skinner released the ebook version of "St. Blair: Children of the Night" on All Saints Day 11/1/13. The print version was released May 2014.
When Skinner isn't working as a marketing consultant or writing, she enjoys traveling and producing short films. Skinner is the proud Executive Producer of Blair Skinner's films "Relative Eternity" and "Eleanora, The Forgotten Princess," as well as Marquel Skinner's web series www.anamead.com.
Emily also writes for the YA market under the penname E.W. Skinner.
Connect with Emily Skinner!
Media & Press
For more information about Emily or her books, please download her Media Kit (which contains author photo, bio, interview, and book sheets). It is available for you by clicking below.
For business inquiries or to request a review copy, please use the link below.
Contact Me Directly